Academics
A Christ-Centered Education

Baptist Regional School is a K-12 school dedicated to excellence in the spiritual, social, academic, and physical development of our students through the application of biblical standards and in cooperation with the home and local church. Our enduring commitment is to provide christian children with an education that is Biblically accurate, Christ-centered and academically superior.
Founded in 2004 as a result of a merger of Baptist High School (1972) and Bethel Baptist Christian School (1978), Baptist Regional School is a vital ministry of Haddon Heights Baptist Church. During the past 32 years, God has provided beautiful facilities, outstanding teachers, and a large and growing field of graduates.
Baptist Regional School is fully accredited by both the Middle States Association of Colleges and Schools and the Association of Christian Schools International.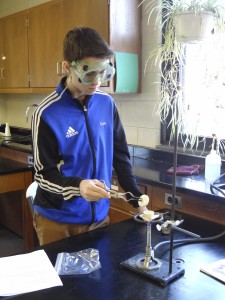 Why Choose A Christian School?
God's Word makes it clear that the education of children is the responsibility of the child's parents. Children are an heritage from the Lord. It is the parents' duty to make sure that their child is trained according to the nurture and admonition of the Lord. Choosing a Christian school is a very important decision that parents make in an effort to fulfill this God-given task.
There are several passages in the Bible that set forth principles concerning the training of children. Christian parents should study these passages as they attempt to discern God's will in choosing a Christian school.
Deuteronomy 6:1-25
Psalm 78:1-7; 127:3-5
Proverbs 1:1-9; 4:1-7; 9:1-12; 22:6
Matthew 18:16-20
Luke 2:40-52
Ephesians 6:4
Colossians 1:9-2:152
Timothy 2:1-2
It is important that every parent develop a proper understanding of Christian education. It can best be defined as: The life-long, Bible-based, Christ-centered process of leading children and youth to Christ, building them up in Christ, and fully equipping each one to be enabled to serve Christ.
Each Christian school has a philosophy that is unique to that school. The school's philosophy is very important, since it will define the purpose and functions of every aspect of the school's program. Click here to read our philosophy statement.